On Outfit Inspiration: Duchess Catherine
Memorial Day is almost upon us; that weekend where we reminisce and reflect on the ones who we have lost fighting for our country. It is also a time to be with our loved ones, and to appreciate our times with them.

It also doesn't hurt to look cute, either...
While looking for a good outfit that would work in many different ways, I stumbled upon the lovely Duchess Catherine of Cambridge.
Now, I love a good style that is also modest, and the Duchess of Cambridge is a shining example. From beautiful, lacy evening gowns, to easy-to-put-together, cute day wear, Catherine shows that you can make any outfit look great, even repeating you favorite simple pieces!
Photo: Getty Images
A great example is her outfit consisting of her favorite navy blue blazer, skinny jeans and a striped shirt. This outfit is easy to replicate; today I want to show you how you can, too!
_____________________________
THE JEANS
Let's begin with the jeans. A good pair of well-fitting, cute and comfortable jeans can be pretty hard to find. Fortunately, I have found the best place with the best-fitting jeans are at Old Navy.
Cute, comfy and a good price?!?!
No Way!!!
Photo: oldnavy.com
These jeans are so well fitting, stretchy but not too stretchy, and make a great replacement for triple-digit-costing denim. The also come in a mid or high-rise fit, so anyone will be comfortable and cute. A perfect replication of Duchess Catherine's jeans.
_____________________________
THE TOP
Next, the striped shirt. I will admit that I have been looking and looking for the "just right" version of her nautical-inspired shirt; it's been really hard. Luckily, I happened to spot something at Old Navy whilst searching for the perfect jeans: the striped shirt.
Photo: oldnavy.com
With a flattering boatneck, can be worn anytime of the year!
_____________________________
THE JACKET
Kate loves this jacket. She as been spotted at many different events wearing it, and the navy Zara blazer has been a tried and true friend through it all.
It is not only under $100, but is well fitted and can be worn many ways!
Now, you can also find other versions that might fit better on you, or that is more your personal style. Mine, for example, is a classic Ralph Lauren navy blazer (the kind with the shiny gold buttons!), and was found for $14 at one of my local thrift stores.
You can find a cute navy blazer lots of places; I suggest looking for one online or at your local thrift store!
_____________________________
THE EARRINGS
Catherine is never spotted without earrings. They are usually very simple, like pearls or diamond studs., sometime small, dangly diamonds.
While most of us cannot afford real pearls or diamonds, we can go for good imitations.
I have had very good luck at places such as JC Penney's; there are a lot of good imitation pearls and cubic zirconia. My favorite pair are a mix of both. Catherine has been spotted wearing hoops with pearls that slide on, and I found a pair that are very similar.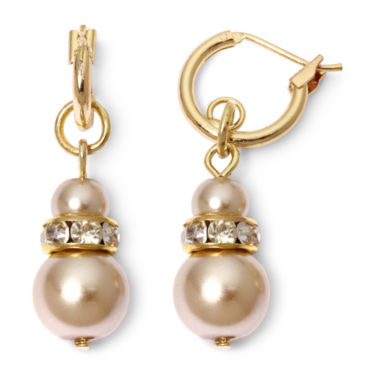 Photo: jcpenney.com
These Vieste pearl drop earrings give that same look at a lower price, all the while looking glam and still low-key. The perfect everyday earrings that will go with just about every outfit.
_____________________________
THE SHOES
As someone who wears a lot of flats, yet still loves to wear heels the occasion arises, wedge heels are a perfect middle.
I found a great replicate of Ralph Lauren Espadrille Wedges from Macy's, at only $69.99!
There are lots of other options out there for you!
While there are thrift stores, there are also great places such as JC Penney's, eBay, and more if you prefer new shoes, although you can find great ones at thrift stores.
Remember, find the style that fits you well and makes you happy.
_____________________________
Putting together a well-polished outfit isn't just for the royals, and it doesn't have to take a large budget. Don't forget that looking good also has nothing to do on the outside, but if you do your best to look good and modest, your outside will reflect how you want to be treated in every path your life takes you. Have fun shopping & post a picture of your outfit in the comments!